Getting tattooed has become more and more popular these days. From TV shows to social media platforms, you will find tattoo culture is flourishing. Every third American boosts a tattoo design.
But if you are among those who are going for tattoo art for the first time, then you should know that this artwork is more or less permanent on your body.
Hence, it is recommended that one properly research and make up their mind before getting tattooed.
Other important things you need to consider are:
Decide on the artist and his credibility
The kind of tools used by the artist 
Look for safety and hygiene in the studio
Carefully choose a design and its location
Discuss about the number of sessions you will need for your chosen design with the professional.
Among all, the most common query by a first-timer tattoo enthusiast is how long it will take to get a tattoo. 
In the following write-up, we will try to answer your question and give you a complete insight into how many sessions/numbers of hours you will require to get yourself tattooed.  
How many tattoo sessions will you need?
Generally, a normal tattoo session may last about 2-8 hours.
However, multiple variables may affect the duration of a single session and the number of sessions needed to finish a tattoo, such as an area you're getting tattooed, the ability to tolerate pain, and the complexity of the design.
Apart from these factors, things like your ability to sit still on a place, an artist's expertise and the placement of the tattoo on the selected body part, etc., play a crucial role in deciding the number of sessions an artist will take to get you the desired body art.
let's try to elaborate each variable in detail for your deep understanding:
Key Factors that Influence the Number Tattoo Sessions
1. Size of the tattoo
Size is the most crucial factor when you decide to get a tattoo. Tattoo size not only matters the pricing and designing aspect, but it also affects the amount of time you have to spend on getting the artwork done on your body.
The more time a tattoo work needs, the costliest the service charges will be. Again, tattoo size impacts the pain and healing. 
A tattoo size can be categorized in a measurement range from tiny, small, medium, and large.
i. Tiny Tattoos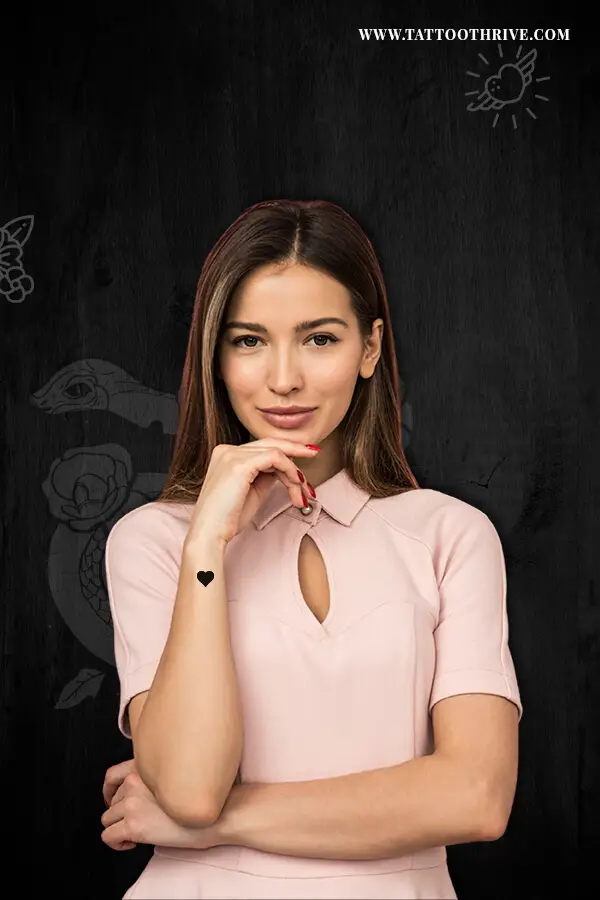 The safest route a first-timer may take.
The measurement of such type of tattoo is about two square inches, and the time required may be around 1-3 hours or a single session.
The best placement for this type of tattoo is the wrist, lower arm, clavicle, finger, toe, etc., and the most popular designs are small symbols, initials and small letters.
ii. Small Tattoos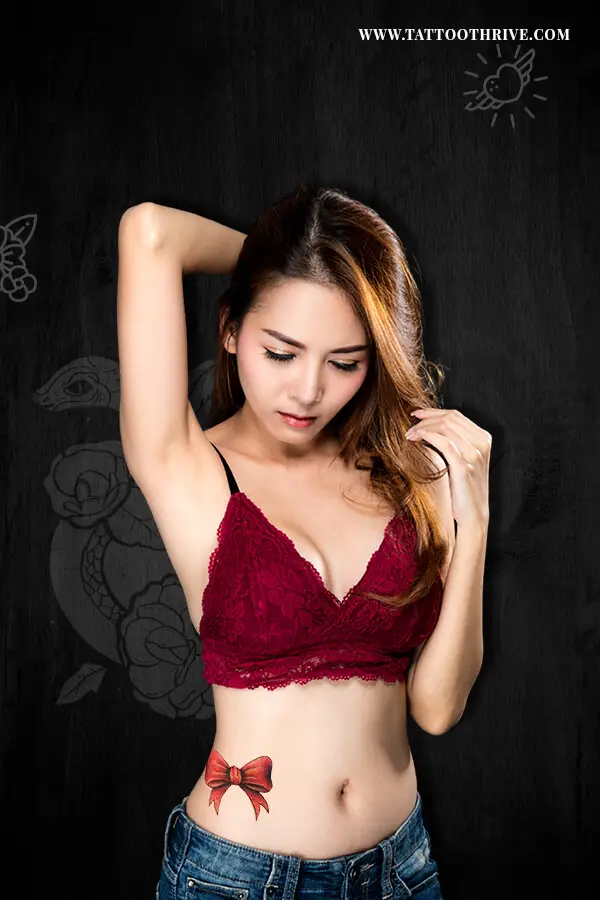 These tattoos range between 2 – 4 square inches and are placed on the wrist, upper arm, upper arm area, shoulder and the back of your neck, etc.
Designs such as floral, birds & animal portraits are quite common.
The session length can last for a full day (5-7 hours) if the client is unable to sit still or tolerate discomfort otherwise a simple & small tattoo may be completed within 2-4 hours.
Commonly, a small tattoo art can be finished in one session.
iii. Medium Tattoos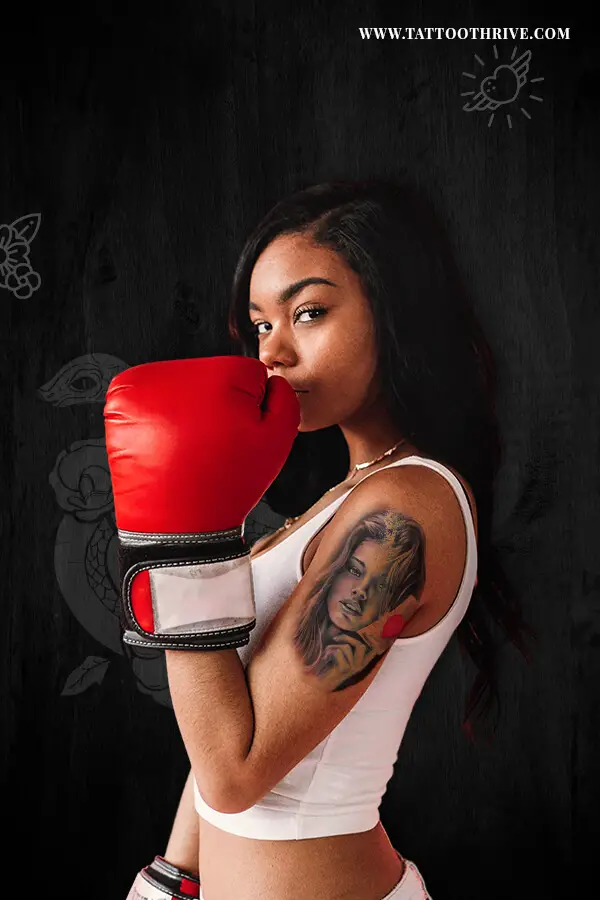 The measurement of a medium-sized tattoo is anywhere around 4-6 square inches.
If the design is simple, it may take around 5-6 hours to complete the work, but in the event of complex design, the number of sessions may extend to 2-5.
The design usually looks great on half sleeves, upper arm, hip and thigh area, or your upper back.
iv. Large or Full Sleeve Tattoos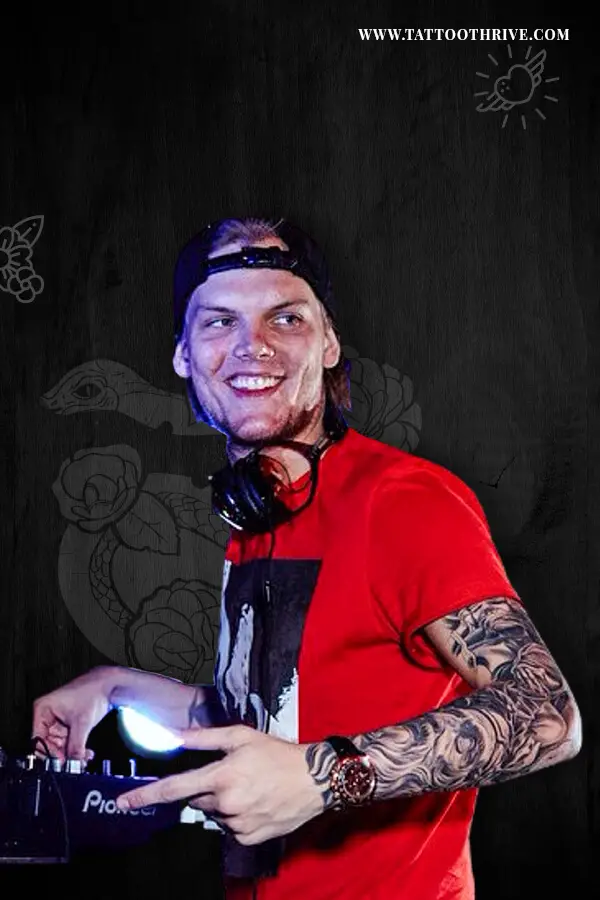 Anything above the 6×6 inches design is categorized as large tattoos.
These are not recommended for first-timers.
Most of the designs are intricate with different color fillings, and as an artist, it provides you to show off their artistic talent.
It is done on the Back, side body, full arm, leg sleeve, etc., and requires 6 to 10 sessions or 4-8 weeks or a year.
Examples of large and extra-large tattoos, traditional tribal tattoos, abstract 3D designs.
These designs require details like colors and grading and shading added in numerous sessions, keeping in mind the skin healing process.
2. Complexity of design
Undoubtedly, Tattoos with intricate designs and detailing will take more time. The tattoo artist will need to focus more on executing the lines and filling them accurately and precisely.
For instance, if you choose an upper arm realistic skull style tattoo with lots of different color gradations, or even a Japanese dragon design, your artist will require more time to complete the work meaning multiple sessions.
In contrast, a simple and small design such as a name or symbol will take much less time. Predictably, a more elaborate tattoo will take longer than a simple tattoo (Minimalist tattoos) design as it will need more details and shading.
Here it should be noted that the size again remains a big factor. A simple tattoo with outlines but on a larger area of your body may require multiple sessions as the artist takes due care of the nerves and curves of the body. 
3. Location of the tattoo
Once you decide on the size and design, the next thing is to finalize the area on your body that you want to get it inked on. The different design looks better at different places on the body.
A large design can't fit on a finger or a wrist, whereas a small tattoo on the back is not visible. Moreover, the thicker part of the body has reduced pain in comparison to the thinnest part.
So, the artist will take less time. Also, try to avoid designing across the nerve structure, spine, or joints. The most common places to get tattoo are chest, forearm, neck, ear, wrist, etc.
For first-timers, it is advisable to try to stick with a thicker part of your body.
Also, avoid the section of the body that is thinnest and bony as it is most painful. It will take a longer time for the artist to design, and even the bearer will not be able to sit still.
The healing time between sessions will be extended in such cases and will consume more time and money. Further, avoid the areas that are exposed to sunlight too often, as the ink may fade with time.
4. Tattoo Artist's Expertise/Speed
The artist's previous experience and his natural skill and ability will determine the number of sessions required.
If your selected artist is an expert in his field, it will have a thoughtful effect on the duration of tattoo making.
The specialty artist can bring the output in a shorter duration than an intermediate-level professional tattoo artist.
A skilled artist also brings out the style you want him to create with faster processing time. Research and choose the artist by going through numerous reviews and credentials available. 
5. Type of Tools
The final product is the outcome of many factors, and one is the tattoo equipment that mainly consists of the type of tattoo machines, needles, and inks. 
The sessions depend on the type of machine an artist is using- coil or rotary. A rotary machine has smoother motion, and thus the skin heals faster.
Hence you can have a shorter time interval between sessions. The skilled and more experienced artist used coil machines even it calls out for more sessions, as it is perfect for making precision and powerful traditional large designs.
Additionally, the type of tools such as needles also affects the time taken by the artist to finish their work.
An artist using a small needle for shading will take a longer time to shade a small area than an artist using a round shader needle with a higher point at the end of the needle.
The more the diameter size of the needle, the faster will be the ink flow. 
Even the color filling affects the total time taken to create a tattoo design. It is a known fact that blackwork tattoo takes less time than the color tattoos.
The use of solid colors in a selected design will be fast than those requiring different gradation and shading of different colors. 
6. Healing Time between Sessions
It requires multiple days to complete an intrinsic/complex tattoo design. Most artists advise that one take a break for 2-4 weeks, allow your skin to heal, and let the tattoo scab and peel.
The longer you wait, the more your body will be ready to cope with your next session, and the artist will be able to work on the same area more easily.
Before scheduling large-size tattoo work, one must give the body the time to heal from the wound (piercing process) as you are at more risk of running into an infection. 
7. Tolerance to Pain
Another consideration is one capability to tolerate pain. Getting tattooed is painful as it involves piercing needles on your skin's top layer.
There can be swelling, itching, and discomfort with accompanying aches and pains. Everybody has a different pain tolerance level, and only after the first session would you know how long you can handle it.
The male body is more capable of bearing pain than a female body. A smaller session is recommended, especially for beginners.
The body section with more fat, fewer nerves, and thick skin usually hurts less, and it will be a quick process to get yourself tattooed. 
Situational Factors that affect Tattoo sessions
Certain situations also affect the number of sessions you should go for.
1. Working Professional
Your work schedule may affect how many sessions or the number of times you can get yourself tattooed.
For instance, people working in corporate environments might not be allowed to flaunt big tattoos or require them to be covered. People with work restrictions are comfortable with single and short sessions.
2. Location of the Studio
If the studio and the artist of your choice are located at far distances, in that case, you need not feel like traveling again and again. You may opt for a single-day session or small tattoo designs that require a smaller number of sessions.
3. Family Obligations
Females, especially mothers, may face problems leaving their children and family for long hours. In that case, they may go for short sessions.
4. Availability of Popular Tattoo Artist
Getting yourself tattooed from the hands of a famous artist is the dream of any tattoo enthusiast. But to get an appointment with these artists is a bit difficult as they all are booked in advance.
You may have to wait for weeks and months to get an appointment, and that's the reason you may have to either sit for a long session length or opt for a design that can be finished in a day.  
The Do's and Don'ts During a Tattoo Session
The Do's
Treat yourself to a full and nutritious meal before your tattoo session. You may bring some fruits and snacks to avoid hunger pains during the long sessions.
Shave and exfoliate your skin before sessions. This will make the area smoother and help the artist to work on it.
Dress appropriately.
Drink a lot of water. The idea is to stay hydrated. 
Try to stay calm and still during sessions. Deep breathing can help hold on to pain.
Check with your doctor if you have any skin allergies.
Bring your Ipad, tablet, and laptop with your playlist of music and favorite shows for some passive and non-intrusive entertainment.
Try to cover yourself with a jacket, gloves, and socks if your sessions fall during the cold season. You don't want to shiver during the process. 
Always ask a question to your artist if you have any doubts. Communication is the key. Let the artist know about whether you need to change your sitting posture or design or take a break. 
The Don'ts 
Consume alcohol the day before your session. Alcohol turns the blood thin, and you may bleed a lot.
Playing loud music, games, or talking on the phone may disturb the artist's concentration.
Don't bring companions to the shop. Tattoo studios are small, and your gang may take up space meant for other clients. However, you may come along with one friend.
Go to Gym at least for two days. Even if you do, then try not to lift heavy weights before your session dates. 
Wrapping up:
Typically, a tattoo session can be of any length, starting with one hour upwards, but on average, a standard session length is around five hours. However, shorter or longer sessions depend on many variables, as discussed above.
Also, our list of dos and don'ts will help you pass your tattoo session with a breeze. These tips and guidelines will ensure you have the best possible tattoo design on your body without issues. Well, prepare yourself before the tattoo session and enjoy your big day!